Lasers are an easy, popular and effective way of addressing skin- and age-related changes to improve the overall appearance of the skin and its health.
With age, the skin can lose its youthful glow, and the common signs of aging, such as fine lines, uneven texture, wrinkles, and discoloration, start to appear. While at-home skincare products have their place in an anti-aging routine, the best results often come from pairing them with laser treatments. Lasers are an easy, popular and effective way of addressing skin- and age-related changes to improve the overall appearance of the skin and its health.
In the past, lasers were invasive and commanded serious downtime. But all of that has changed with the advent of non-invasive laser treatments that are quick and come with little to no recovery. One such laser is the Cutera XEO Laser Genesis treatment, a non-ablative laser that dramatically helps improve the appearance of aging skin by stimulating collagen and the skin's texture and tone. So if an effective and convenient solution is what you're looking for, consider Laser Genesis.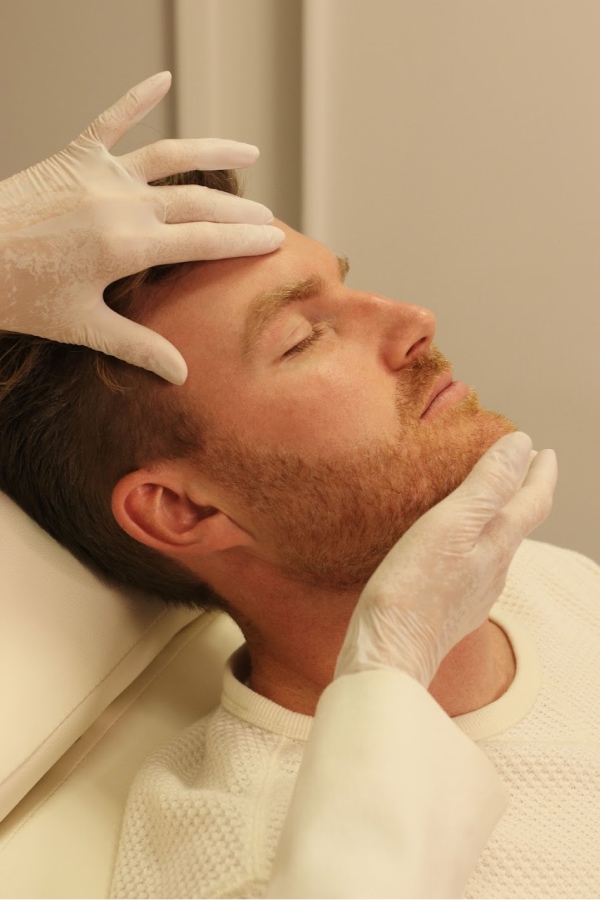 Laser Genesis is an effective laser that treats various skin conditions, including rosacea and its symptoms, broken capillaries, uneven skin texture, fine lines, and wrinkles. The most significant benefit of this laser is its ability to promote new collagen, which leaves the skin rejuvenated and refreshed. In particular, we use the Cutera XEO laser device to revitalize and resurface the skin while improving pigmented and vascular lesions. This customizable, multi-application laser and light platform non-invasively treats a wide array of today's most common aesthetic concerns.
Laser Genesis is different from other laser treatments in that it gently heats the dermis to stimulate collagen. But it's often viewed as a preferred treatment since multiple concerns can be addressed at once. In fact, according to the manufacturer, more than 92% of laser and light-based treatments can be addressed with the XEO system, making it the ultimate aesthetic and skincare powerhouse.
The XEO device is entirely customizable and relies on a light and laser system to best address the needs. It also features YAG technology to help reinstate healthy skin and improve the skin's overall complexion. This specialized technology allows the XEO Laser Genesis system to address unwanted hair and vascular lesions. At the same time, the IPL component improves photoaging, Er: YSGG laser resurfaces the skin, and titan works to heat the skin deeply.
Safety and the risk of burns and hyperpigmentation are concerns with some laser and light treatments. But the advantage of the xeo Laser Genesis is that it can be set to various pulses and refined to specific skin concerns and types so that the skin is never compromised.
Laser Genesis works wonders for a variety of different issues, including:


| | |
| --- | --- |
| Acne scars | Age spots |
| Angiomas | Freckles |
| Inflammatory active acne | Hair removal |
| Photodamage | Poikiloderma |
| Rosacea | Scars |
| Facial, leg, and periorbital veins | Venous lakes |
| Warts | Wrinkles |
Another plus of Laser Genesis is that the laser is gentle enough to use year-round, even in the summer when the skin is more likely to be exposed to damaging sun rays. Each treatment is quick—about 30 minutes—and is downtime-free, making the Laser Genesis an excellent option for those short on time and looking to improve their skin without taking time off their busy schedules.
The Laser Genesis is often performed alongside other treatments like chemical peels, facials, injectables and fillers, and even skin-tightening treatments to garner the best results since each modality has its benefits. Plus, because the laser is gentle and controllable, a Laser Genesis treatment is less likely to instigate the formation of pigment post-laser in darker skin tones, unlike other lasers. YAG is the only laser that can be used on dark complexions without causing hypopigmentation.
By gently heating the skin, Laser Genesis can stimulate new skin cells and collagen, creating plumper, healthier-looking skin. That increase in collagen is also responsible for smoothing out scars, lines, and wrinkles. In addition, new collagen leaves the skin looking healthy, fresh, and more youthful.
Laser Genesis is a non-ablative laser, so it doesn't disrupt the outermost layers of skin, which is how other types of lasers work. Instead, XEO Laser Genesis distributes heat directly under the skin to rev up collagen production and smooth the skin so it appears more youthful and with less wrinkling. The heat emitted also doubles as an anti-redness treatment to constrict blood vessels, making broken capillaries and rosacea symptoms less apparent on the skin's surface. In addition, the laser helps treat acne and improve acne scarring too.
The laser is a quick procedure that takes about 30 minutes. First, the skin is assessed and thoroughly cleansed. Topical numbing cream may be applied, although many patients find the treatment comfortable enough without it. Then, your provider will have you slip on a pair of protective eyewear to keep your eyes safe throughout the procedure.
Next, the handpiece is held up to the areas to be treated, gliding across the skin. While Laser Genesis is not said to be painful or uncomfortable, there may be a tingling sensation and some warmth on the skin.
Once the treatment is complete, a light layer of a hydrating moisturizer and sunscreen is often applied directly to just-treated skin. This helps lock in moisture and prevent dryness while protecting the skin from the sun.
The nice thing about Laser Genesis compared to other lasers is that there's no significant downtime, redness, flaking, or discomfort. However, there may be minor swelling and inflammation for the first few days. You can resume your regular skincare and makeup routine right after the treatment.
Nearly every skin type and tone can benefit from a series of Laser Genesis treatments, which is suitable for anywhere on the body. Most often, the treatment is performed on the face and neck, but it can be used on the chest, shoulders, hands, back, legs, and arms.
However, pregnant women or breastfeeding should avoid the treatment (and any laser) until given the green light by their doctor. If you're experiencing any irritation, cur, rash, or open lesion on the skin, it's best to wait until the area is healed before having the laser performed.
Patience is a virtue when it comes to seeing the results of the treatments, especially since they are gradual and cumulative and require a series of sessions. Usually, four to six treatments spaced about a week apart are recommended.
Most patients notice the effects of the treatment and an improvement in their skin after the entire course of treatment, but some start to see improvement after the first few sessions, with remarkably improved skin texture. The results are cumulative, and completing the entire course of treatment is advised.
On average, the results garnered from the treatment last about six to 12 months. Improvement in dark spots and scars should last indefinitely. However, to maintain your results, follow-up treatments every month or so are often recommended.
How is Laser Genesis Different from Other Lasers?
Deciphering which laser is best for you is tricky, and that's where the help of an experienced skin expert comes into play. With so many types of laser technologies on the market, it can be challenging to know which ones are best for your skin and skin tone.
The most significant differentiating factor between the Laser Genesis and other lasers is that Laser Genesis is non-ablative, meaning it does not disrupt or destroy the outermost layer of skin or create micro-injuries in the skin. Other light treatments, like Intense Pulsed Light (IPL), are also non-invasive but primarily used to improve discolored spots and redness. However, IPL is not always the proper treatment for those with darker skin tones due to the increased risk of hyperpigmentation. But that's fine with Laser Genesis since the treatment is suitable for all skin colors.
Some laser treatments also require a pre-laser prep that includes using specific skincare ingredients in the weeks leading up to the laser to prep the skin. Laser Genesis doesn't require any skin preparation beforehand, making it a convenient and easy treatment for those who have difficulty complying with a more extensive skincare routine.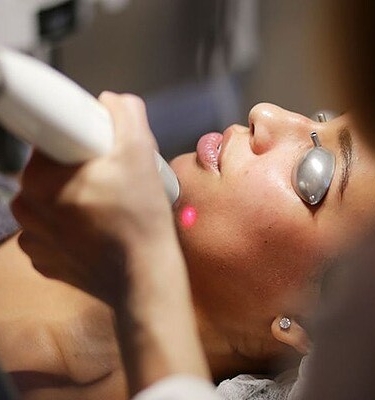 The Benefits of Laser Genesis
There are multiple reasons why patients continue to treat their skin with Laser Genesis, which can be customized to your skin's needs. In addition to the laser being painless, convenient, quick, and practical, it's also: downtime free; able to improve redness in the skin, broken capillaries, and rosacea symptoms; a safe, low-risk laser; and is suitable for a variety of skin tonturnes.
The non-invasive skin rejuvenating laser can be performed in about half an hour and doesn't require any numbing creams, a major plus for those who are more sensitive or allergic to numbing medications. There's also no downtime with the treatment, so you can have it done and return to your regular schedule immediately. Plus, there's no need to take time off for recovery.
Another benefit of Laser Genesis is that it's compatible with all skin types and tones, which isn't necessarily the case with other lasers. And the treatment can be done on all body parts except the delicate eye area. To fully reap the benefits of Laser Genesis, a series of treatments are recommended, along with maintenance sessions.
How Much Does Laser Genesis Cost?
Every patient is different, so we recommend a consultation to determine the cost of your Laser Genesis treatment. Our experienced team of skin experts and medical providers can further discuss the treatment with you and determine if Laser Genesis is right for you.
The treatment is tailored to your needs, which is why the cost varies. Our team can customize a skin package to help you obtain the desired results. A consultation with our staff will ensure more accurate pricing.
Unlock Your Skin's Potential at Ecobel Med Spa
If you're ready to achieve smooth, youthful skin, look no further than Ecobel Med Spa. Our team of internationally trained, skilled estheticians and skin care specialists has 40 years of experience in the beauty industry. They will work with you to determine the best laser treatment plan for your skin's needs. Don't wait to get the healthy, glowing, youthful skin you deserve. Book your consultation for Laser Genesis treatment today!